I'm so honoured to have received a blog award from the lovely Charlotte (
Whinyl Loves Winkxie
). She has a really nice blog that frequently features her two cute cats. Hop over to show her some love if you will. :)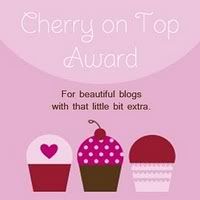 So, I'm supposed to do some simple tasks after receiving the award :-
1. Thank the blogger who awarded you.
2. Put the award on your blog.
3. List three things about yourself:
* I am rather obsessed with Winnie the Pooh bear. I have quite a collection of Pooh-related stuff and I sleep on my Winnie the Pooh bedset. :)
* It took me three attempts before I finally get my black belt in Taekwondo.
* I love kids and I can't wait to start my own family! :)

4. Post a photo that you love: